Histrionic Personality Disorder.  The name seems to cover it, but there are some nuances that separate this one from Borderline, which it closely resembles.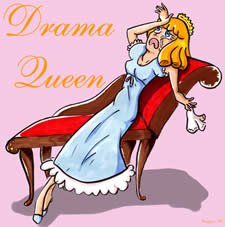 It wasn't hard at all to find images that describe Histrionic Personality Disorder (HPD).  The disorder is fascinating, but it wears you out–whether you have it, or you're close to someone who does.
It takes a lot of energy to keep up the kind of drama that characterizes HPD.  The person who has it is demanding, needy, and convinced that the things that happen to her have never happened to anyone else, and that the whole world is fascinated by her experiences. She loves to talk about herself, and takes or makes every opportunity to do so. She rarely sees the distaste or the boredom in the eyes of her captive audience, because she is consumed with her performance and has very little awareness of other people.
You go ahead and try to have a normal conversation with  a person who has HPD.  Good luck. Your first sentence will likely prompt him to go off on one of his own stories, totally taking the stage and derailing what you were trying to say.  Everything is about him, all the time.
Here's a good list of diagnostic symptoms, taken from psychcentral.com :
Is uncomfortable in situations in which he or she is not the center of attention
Interaction with others is often characterized by inappropriate sexually seductive or provocative behavior
Displays rapidly shifting and shallow expression of emotions
Consistently uses physical appearance to draw attentionto themself (my sharp-eyed son caught this egregious grammatical error.  Himself, not "themself."  Oy.)
Has a style of speech that is excessively impressionistic and lacking in detail
Shows self-dramatization, theatricality, and exaggerated expression of emotion
Is highly suggestible, i.e., easily influenced by others or circumstances
Considers relationships to be more intimate than they actually are
HPD cannot be cured, but as with all personality disorders, it can be mitigated with good therapy.  Sometimes, medication can be helpful in calming the extreme attention-seeking and impulsive behaviors.
As with all the personality disorders, a biblical approach is often the most effective therapy.  When a person truly comes to Christ, it changes him.