It's not really frightful, just your typical eastern Pennsylvania wintry mix of freezing rain and ice. Makes driving dangerous. Terry and I had already decided not to go to church this morning. It's a 40-minute drive for us under ideal circumstances. We've been caught more than once in this kind of weather, and it's scary–especially as we grow older.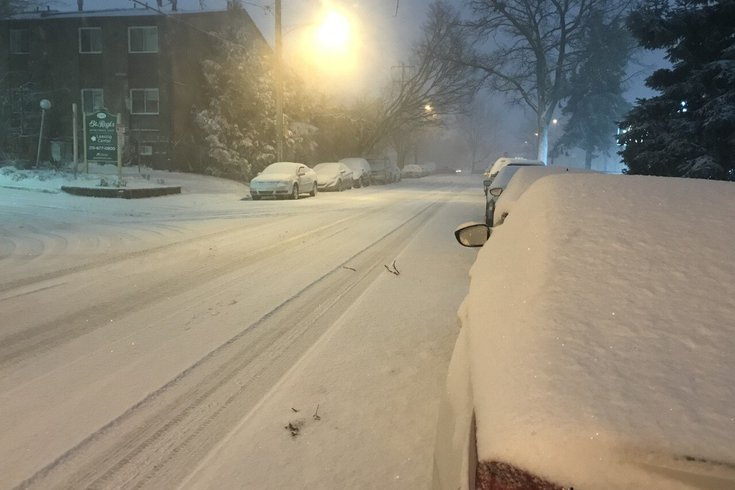 When we lived farther north, in the midwest, this kind of weather happened infrequently. It's not so damp out there, and freezing rain is abnormal. Learning to drive on ice-slicked roads was frightening to me when we first moved to Pennsylvania, and I still avoid it whenever I can.
Everything has a grey cast to it today. The sky and the snow are varying shades of white to grey, and the bare trees are grey to black. The outside temp is 28 degrees, just below freezing, and the damp cold is playing havoc with my arthritic hands and shoulders. If the weatherman doubts the forecast, he should just check with me 🙂 I always know when there's a change coming.
In our living room, it's nice and toasty. We have an oil-burning stove in the living room that radiates heat to the rest of the house. When it gets really cold, we close off the back bedrooms and the study, and at night we open the doors an hour or so before bedtime so we don't have to sleep in an icebox.

I've finished my breakfast and my coffee, and I'm enjoying the warmth of this room. I have an afghan over my lap, and I feel snug and secure. It ended up that services were canceled this morning because of predictions of more freezing rain this morning, so I'm enjoying a relaxed, leisurely Sunday morning, still in my jammies.
I do, however, think of the homeless in this nasty weather. I'm working on a sleeping mat right now that reflects the colors of winter: White, black, grey, clear blue, and sunshine yellow. I hope some homeless person will enjoy the mat, and that they can find a place indoors where it isn't so miserably cold.
What I've learned about the homeless since I started making these mats is that shelters are not always a safe place for them. There is theft, assault (both violent and sexual) and the danger of losing their freedom. It's not a warm and fuzzy existence for such people, and I can only imagine how they must dread this cold, grey, drizzly season.
So while I sit in our warm house, and my hands are busy working on a mat, I pray for them. I also thank God for my own situation. We take our creature comforts for granted, and we shouldn't.
No matter what. your circumstances may be today, wherever you live, take a moment to be thankful for what you do have, even if it seems small to you. If you have a place you can call home, be thankful for it. Even if what you have doesn't seem like much, if you have a phone, tablet or computer on which you're reading this post, that's a lot more than most homeless people have.
The Apostle Paul wrote, from his prison, ". . .For I have learned, in whatsoever state I am, therewith to be content. " (Phil. 4:11)