Hosea 9:13-14.
Ephraim, as I saw Tyrus, is planted in a pleasant place: but Ephraim shall bring forth his children to the murderer.
Give them, O LORD: what wilt Thou give? give them a miscarrying womb and dry breasts.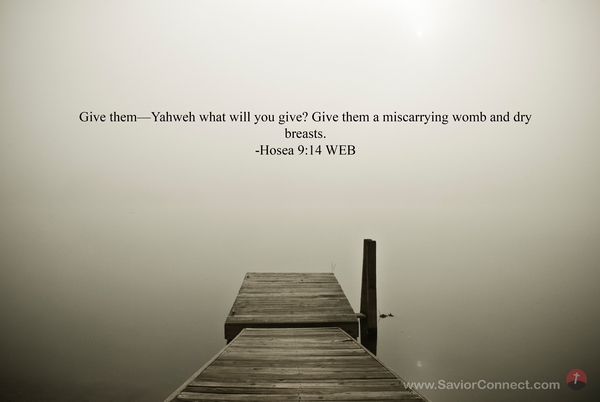 I looked through several translations of this verse, and they all were stated exactly the same. What a terrible example of desolation.

Verse 13 tells us that Ephraim (Israel) had been built, like Tyrus, in a pleasant place. Water, fertile ground, plenty for life and comfort. But when God's judgment fell, they would bring forth children only to see them murdered.
Hosea is praying in v. 14. He hesitates, as if he's not sure what to ask from God. Finally, under the direction of the Holy Spirit, He prays for miscarrying wombs and dried up breasts. Why? I believe, in part, it was to prevent the murders of little ones who would not survive the womb; and if they did, their mothers would have no milk with which to feed them, and they would die.
Israel seemed not to have any idea what Hosea was telling them, and I think it was because they just didn't want to hear.