Hosea 6:9. "And as troops of robbers wait for a man, so the company of priests murder in the way by consent: for they commit lewdness."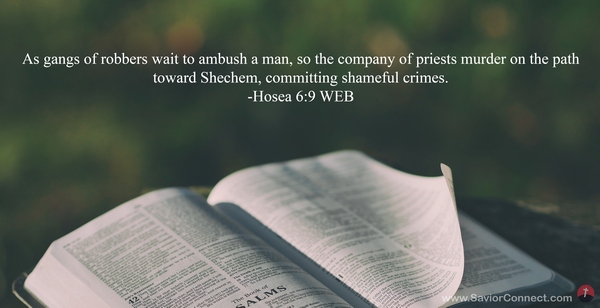 Bands of robbers would often hide themselves along a more secluded stretch of a road, waiting for a lone traveller. Their intent was evil. If the traveller resisted, he was easily killed, being outnumbered.
Hosea compares false priests to these bands of robbers. Their intent was also evil, and more so if they purported to be legitimate priests of Jehovah. They led God's people into idolatry. The word lewdness used in this verse is rightly translated as sexually immoral; however, it can also be interpreted as devious, malicious, planned for the purpose of doing harm.
Why, though, should men who were–or claimed to be–priests be guilty of such vile behavior. I think we can apply a more modern phrase here–just follow the money. It was for financial gain, or popularity with idolaters. The priests did not willingly give up their status, and hoped to maintain it by cooperating with the enemy.
That never ends well.