John 12:34-36.
The people answered Him, We have heard out of the law that Christ abideth for ever: and how sayest Thou, The Son of man must be lifted up? who is this Son of man?
Then Jesus said unto them, Yet a little while is the Light with you. Walk while ye have the Light, lest darkness come upon you: for he that walketh in darkness knoweth not whither he goeth.
While ye have Light, believe in the Light, that ye may be the children of Light. These things spake Jesus, and departed, and did hide Himself from them.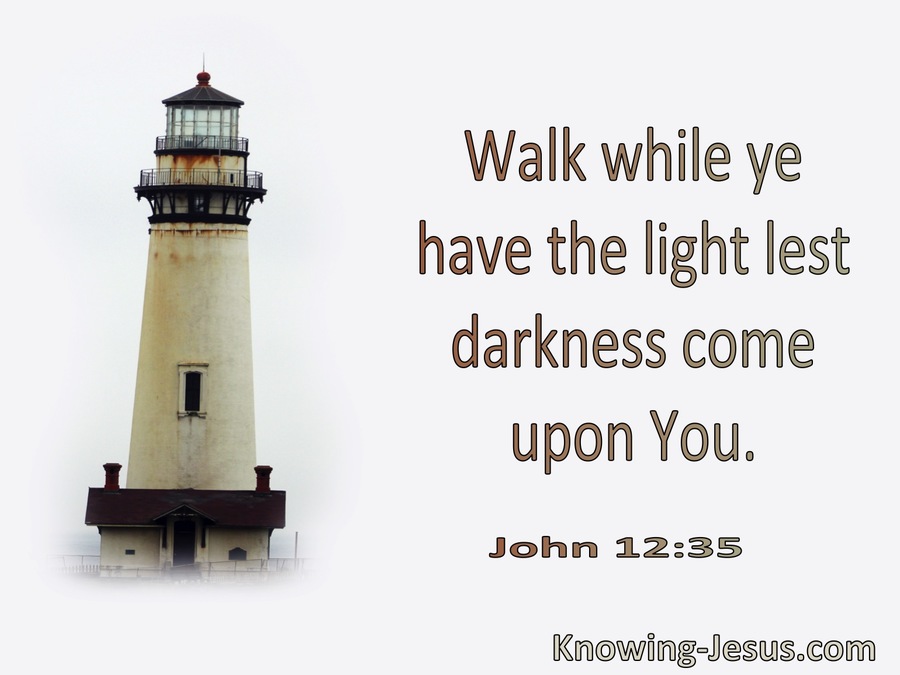 Earlier, Jesus had said, "I AM the Light of the world!" (John 8:12)

Backing up just a bit, we need to understand where the question that the people asked Jesus comes from. They had been taught about the victorious Messiah from the Law, and that He would live and reign forever. What they had not heard much about was the suffering Messiah from scriptures like Psalm 22 and Isaiah 53. Those passages did not support the hope and desire of the nation for the Messiah who would come to set them free from the rule of other nations. So they were confused. Who was this "Son of man" who was to be high and lifted up? It is no wonder they were confused, because they HAD been taught the scriptures that prophesied His eternal reign: Isa 9:7; Eze 37:25; Da 7:14. Now Jesus was saying that, even though He was the Son of God, He was going to be crucified. It just didn't compute for the people.
In response, Jesus reminded them that He is the Light. He encouraged them to walk in (believe in, trust in, accept) Him as the Light while He was still with them, because His earthly ministry was shortly drawing to a close.
Genesis 6:3 tells us that the Spirit of God will not always strive with man. If a man, or a nation, hardens the heart and refuses to follow the Light, then eventually that Light will be removed.

America, we need to understand that the Spirit of God will not always strive with us! We have the blood of millions of unborn and newly-born babies on our hands, just for starters. We have excluded God, turned our backs on His Son in pursuit of material comfort, and forgotten the importance of God in the establishment of the country we say we love.

We are no different than those questioning Him before His death. In fact, we are worse because we have the entire inspired Word of God to explain it all to us, and yet we go about our trivial pursuits, ignorant of God and His Word and His will.
Once again, Jesus hid Himself from the crowds. The time, though near, had still not come.