John 10:7-10.
Then said Jesus unto them again, Verily, verily, I say unto you, I am the Door of the sheep.  
All that ever came before Me are thieves and robbers: but the sheep did not hear them.  
I am the Door: by Me if any man enter in, he shall be saved, and shall go in and out, and find pasture. 
 The thief cometh not, but for to steal, and to kill, and to destroy: I am come that they might have life, and that they might have it more abundantly.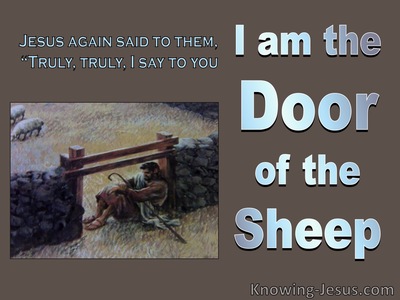 Jesus adds another name to His list of "I AM." Earlier, He said He was the Living Water; the Light of the Word, the Son of God. Now, He is the only Door to the sheepfold.
Believers have become so familiar with these Names of Jesus that I fear we take them for granted. I personally am very thankful for this study, as it has made me more aware and in awe of Who Jesus is! It is good to be reminded that He is the Way, the Truth, and the Life!
We live in a world that is full and overflowing with man-made religion. We are told that there are many ways to heaven; that as long as we live good lives, we'll be okay.
This teaching is one of the thieves that comes to kill, steal, and destroy. It is a lie, from the father of lies, whose only goal is to destroy all that God loves. It calls upon us to ignore Jesus Christ, because He is just one of the ways to heaven. There are many others that have been claimed, and made to appeal to our human pride. Do good works. Give money to charity. Be nice. Bow down to other gods. Don't worry, as long as you do your best, you'll be fine.
The trouble with all that lies in the sinful nature of mankind. It lies in our pride. It lies in our desire to be equal with God, and to not need the salvation offered by the death and resurrection of Jesus Christ. Satan has always known that pride is the most effective path to the will and the heart of mankind.
Here, Jesus says only He is the Door. All others, past, present, and future, are thieves and robbers who come to kill and destroy. The souls of mankind are in the balance between Jesus and all the false gods that have been set up to try to obscure the Light of the World.
It is only through Jesus Christ that we can find salvation. Christianity is the only faith that offers a risen Savior! But even in Christianity, Satan has managed to pervert and twist the truth so that doing good works while claiming the Name of Jesus becomes the primary way of salvation.
So, how can we know the real truth? Through the inspired Word of God, the Bible. Even though it has been under attack forever, it has stood the test of time and is still the most-purchased book of all-time. It has been burned, banned, tossed out like garbage, but it still stands as the source of truth. There are SO many stories of people who have started out reading the Bible in order to prove that it is false, but who have come to faith in God instead through His inspired Word.
Jesus is the Source of light and life. His arms are still wide open, just as they were on the Cross, to all who believe and trust in Him.