John 7:14-16.
Now about the midst of the feast Jesus went up into the temple, and taught.
And the Jews marvelled, saying, How knoweth this Man letters, having never learned?
Jesus answered them, and said, My doctrine is not Mine, but His that sent Me.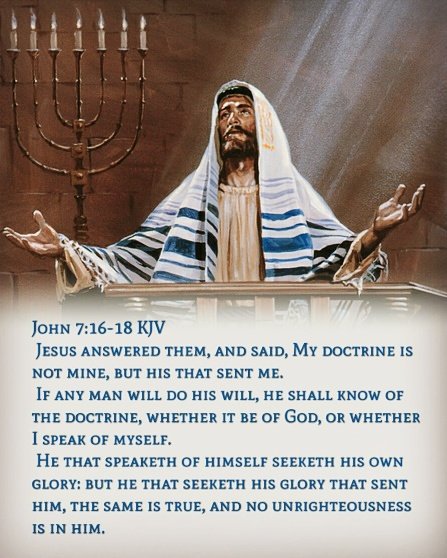 While the people of Jerusalem were whispering about Jesus, wondering if He were at the feast, He entered Jerusalem quietly. Midway through the festivities, He went into the Temple and began to teach.
Can you imagine hearing the Creator, the source of life, the Son of God, teaching about the scriptures that He had inspired?
The people again began to murmur among themselves: "He's not educated! How does He know to teach the scriptures, when He never learned to read?"
As usual, Jesus was not afraid to respond to the whispering. His response was simple and direct: "I speak not My own words, but the doctrine of My Father, Who sent Me."
There it is again: His assertion that He was indeed Messiah, Son of God. Stunning and simple.
I have heard many eloquent preachers, teachers, and speakers in the course of my life. None of them, though, can compare to the authority, eloquence and gifted teaching of Jesus Christ. He spoke scripture. It is the Word of God that brings conviction into the hearts of mankind.
Jesus then brought attention to the fact that He was teaching not His own words, but the doctrine of God. That's what was important then, and it is still important now.