John 4:31-33.
In the mean while His disciples prayed Him, saying, Master, eat.
But He said unto them, I have meat to eat that ye know not of.
Therefore said the disciples one to another, Hath any man brought Him ought to eat?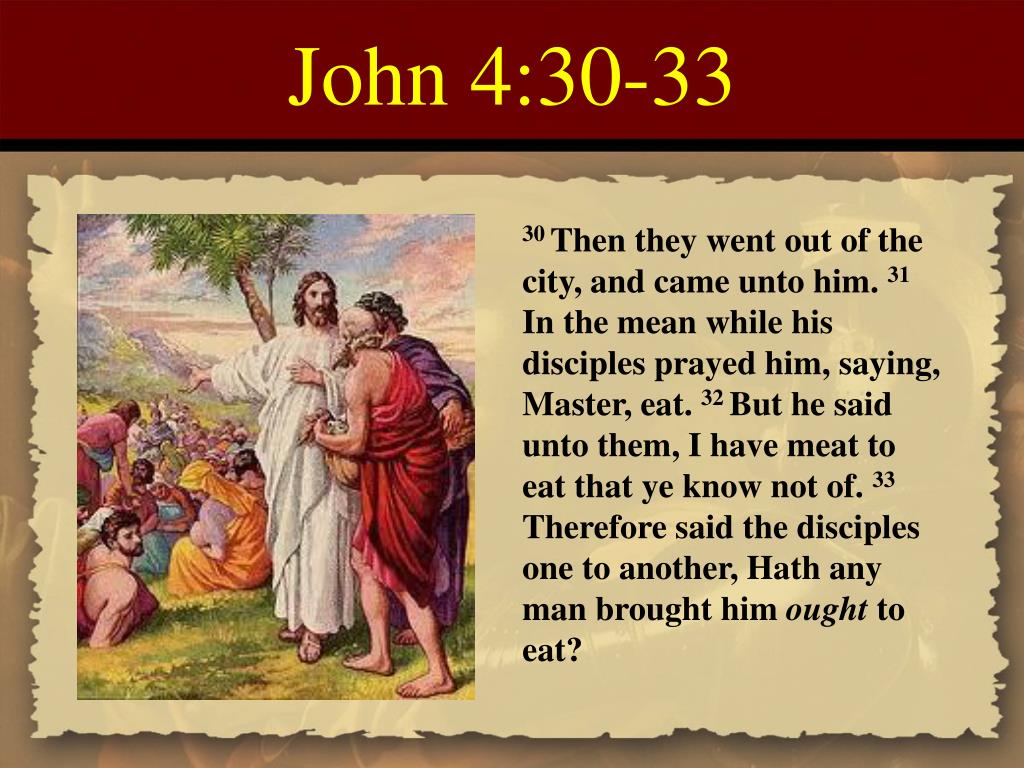 While the woman of Samaria was busy rounding up people to come and see Jesus, the disciples were concerned because they knew Jesus hadn't eaten for some time. They begged Him to eat. He told them He had food that they didn't know about, and they asked one another if anyone else had brought Him food.
The disciples were concerned for Jesus' physical well-being. They had already seen Him staying busy and active teaching, preaching, healing, pouring Himself out in this early stage of His ministry. They were not being unspiritual, or wrong, in any way to want Him to take care of Himself.

It is not unusual, even today, for people dedicated to ministry to overlook maintaining their own health and strength. Because I grew up in a pastor's home, I know of pastors, missionaries, Christian school teachers, for instance, who wear themselves out in the work. My personal experience is that such people have a burden that is sometimes assumed, sometimes imposed by others, that they must put their own needs aside in order for God to bless their work.
Sometimes people in full-time Christian service—and that is a term that has always bothered me, because I believe that EVERY Christian is in full-time Christian service—sometimes, these workers fall into depression, or have symptoms that are hard to pin down, nearly impossible to diagnose.
What do they need? Rest. Nourishment. Some of the TLC they are so good at giving to others. Time to renew a relationship with God and get back in touch with His grace, mercy, and love.
He said, in Matthew 11:28-30, that His yoke is easy and His burden is light. He invites all Who need Him to come to Him, and He will give us rest.
"Come unto me, all ye that labour and are heavy laden, and I will give you rest.
Take My yoke upon you, and learn of Me; for I am meek and lowly in heart: and ye shall find rest unto your souls.
For My yoke is easy, and My burden is light."
There are examples of great servants of God whom God set aside for a time in order to rest and regain their physical, spiritual, and emotional health. The first one that comes to mind is Elijah, the great Old Testament prophet.
What Jesus was teaching His disciples here was that He could depend on a source of strength that they didn't completely understand yet. He depended on the strength of the Father to sustain Him. He would do so right up to the moment at which He surrendered His spirit on the cross at Calvary.