Eccl. 9:10. "Whatsoever thy hand findeth to do, do it with thy might; for there is no work, nor device, nor knowledge, nor wisdom, in the grave, whither thou goest."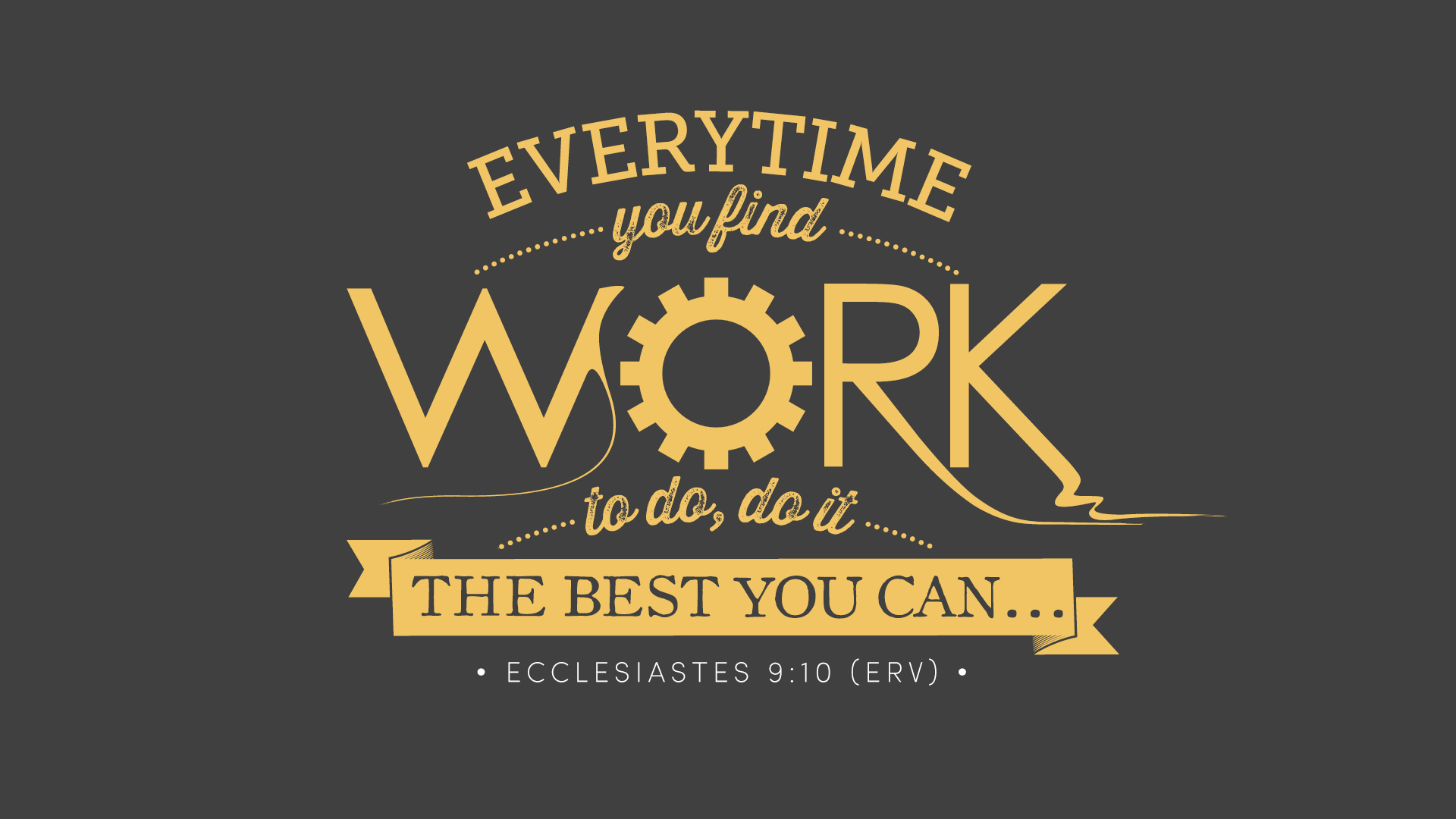 Solomon gives good advice here until he gives the reason he thinks people should always do the best they can: There's nothing to do in the grave, where we're all headed. There's that under the sun perspective again. Life is over the moment one takes his last breath. Get everything you can squeeze out of life here on earth, because there's nothing after death.
I'm thinking more and more that I should do a post or two just on what the Bible has to say about life after death in the Old Testament, but not today. I'm going to need to study that, get my ducks in a row, and make sure I'm teaching truth.
What I want to focus on this morning is the first part of the verse.
I have always understood the importance of doing the best job you can. My mom and dad taught us to work well, and not indifferently. When I got my first job after high school graduation, I was determined to be the best grocery store cashier I could be, and also to do my very best in my studies in college.
Now, at the other end of my life, I find myself fighting the desire to just let the days slip by. I can, you know. I'm retired 🙂 No one to answer to, no one handing me a paycheck. I chose to allow myself to be lazy that first week of my retirement. I liked it. I read a lot, watched some reruns on daytime TV, did a little organizing and light cleaning because I wanted to. Terry seems to enjoy having me home, and we can still, after our 50+ years, sit and talk for a very long time.
I am limited to a degree in what I can do because of my lower back issues. Standing for more than 10 minutes or so is a problem, and I can't walk far. I shouldn't bend, nor lift anything even slightly heavy. Already, I'm finding it extremely difficult to abide by those limitations. There is so much I'd like to do here by way of housework. I will figure out how to do some of it without breaking the rules, because breaking the rules ends in days and days of pain. Not worth it.
So. I have a bi-weekly Bible study for women that I teach, as well as a high school history class. Both classes meet on the same day. I spend a good deal of time preparing, and the study is good for me. Also, writing this blog almost every day keeps me in the Word. I'm doing those three things with all my might, and I love it. The challenge energizes me.
Mostly, I want what I do to honor God. I'm not quite ready to be put out to pasture yet, and I'm very thankful for the teaching opportunities that I can use for God's glory.
For me, that's what this verse is about. Do whatever God puts before you. Do it with all your might. Do it with zeal, with purpose, and with joy. Honor God in the doing. There are rewards both now and in heaven, because the grave is nothing more than a place for the dead body that I'll leave behind when I take my first breath in heaven!