Isaiah 63:2-4.
2 Wherefore art thou red in thine apparel, and thy garments like him that treadeth in the winefat?
3 I have trodden the winepress alone; and of the people there was none with Me: for I will tread them in Mine anger, and trample them in My fury; and their blood shall be sprinkled upon My garments, and I will stain all My raiment.
4 For the day of vengeance is in Mine heart, and the year of My redeemed is come.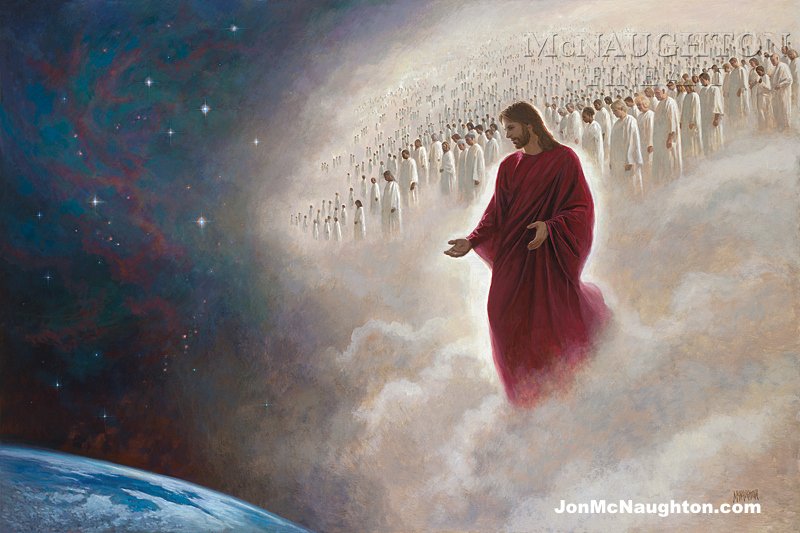 Of course there is no artist's conception of things yet unseen that can give us a perfectly true picture of what this is going to look like.We know from Revelation 19 that the saints already in heaven will accompany Jesus, and that His garment will be "dipped in blood." The Day of Vengeance here, and in 34:8;35:4; 59:17; 61:2; Jer. 51:6; 2 Th. 1:8 refers to the greatest destruction that earth has ever seen or ever will see. Multitudes will be destroyed in one day at Armageddon. Such will be necessary in order for the Year of My Redeemed to come, as stated here–the year of the full restoration of Israel to God and their deliverance from their enemies (Rom. 11:25-29).
Verse 3 tells us that He had no help from the people themselves. We'll see more about that in verse 5.
It is impossible for us to truly visualize the carnage resulting from God's fury over those who hated His people, Israel, as well as believers from all over the world. You may wonder how a loving God could destroy so many. What we have to remember is that, first of all, His primary attribute is holiness, not love. In His holiness, He has finally had enough of the willful rebellion of those led by Antichrist, and is ready for the waiting to be over.
Second, we have to understand to the best of our ability that the evil of Antichrist is so deep, so angry, vile, and destructive, that he had to be completely and for all eternity destroyed and restrained in order for Messiah to do His work in the coming Kingdom.