Isaiah 63:1.
Who is this that cometh from Edom, with dyed garments from Bozrah? this that is glorious in His apparel, travelling in the greatness of His strength? I that speak in righteousness, mighty to save.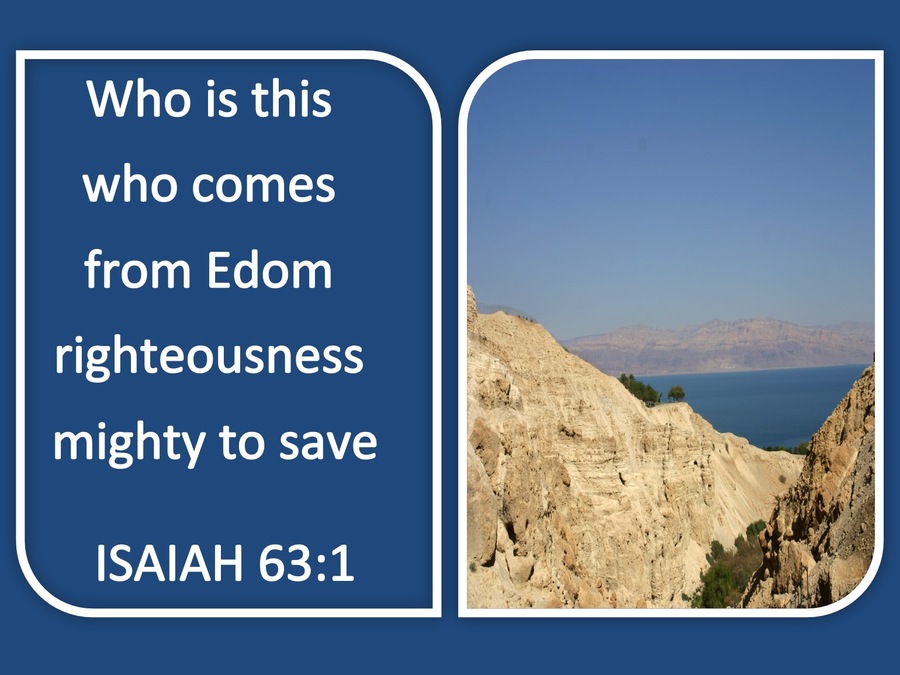 In His descent to the earth at the Second Advent Christ will appear over Edom where Israel is being protected from the Antichrist. He will continue to descend until His feet will touch the Mount of Olives on the east of Jerusalem, in the area where the battle of Armageddon will be fought between Him and Antichrist. The description in vv. 1-6 is of the battle of Armageddon.
The Israelites will see Him in His descent to Jerusalem and will cry out, "Blessed is He that cometh in the Name of the Lord!" (Matt. 23:35-39.) They will then pray the prayer of 63: 15-64:12 by the power of the Holy Spirit upon them, and they will all be converted on that day (66:7-8; Rom 11: 25-29).
The dyed garments are explained in the next couple of verses as being colored from the blood of men at Armageddon.
Bozrah was one of the great cities of Edom and Moab.
The Messiah is the coming conqueror to fulfill this passage. He is the only One Who is Mighty to Save, and Satan, with all the demons of hell, will not be able to withstand Him when He comes to free His people for the last time.