Isaiah 53:10. "Yet it pleased the Lord to bruise Him; He hath put Him to grief: when thou shalt make His soul an offering for sin, He shall see His seed, He shall prolong His days, and the pleasure of the Lord shall prosper in His hand."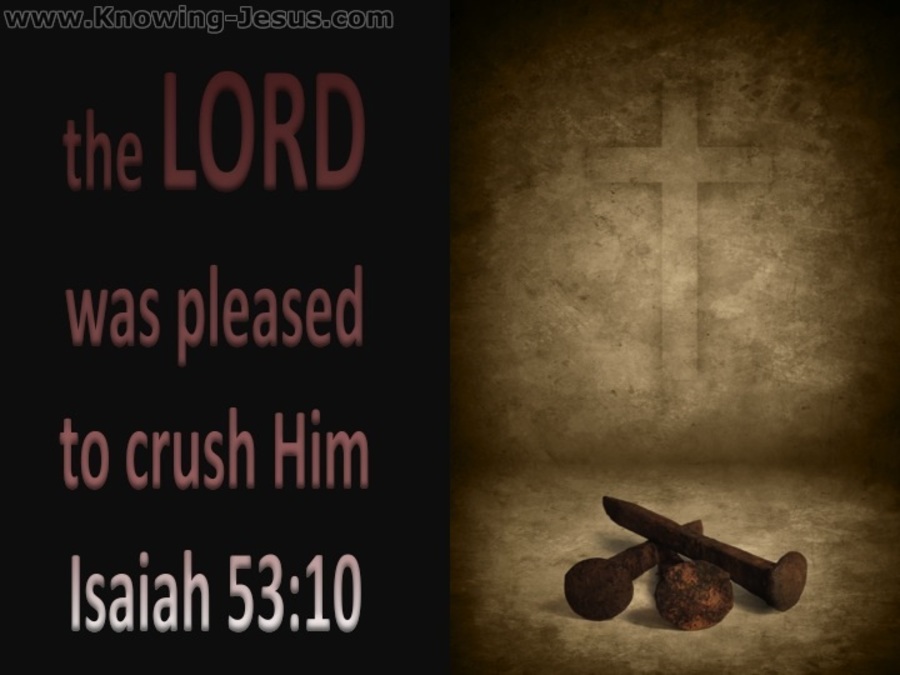 It pleased God to bruise His Son?
Let's take a closer look.  We need to understand that pleased does not mean God was enjoying what His Son was enduring, but that He was satisfied with the working out of His plan for the salvation of mankind.
The only reason it pleased Jehovah to permit Jesus to be crucified was to bring the redemption of the whole creation so that His eternal program could be carried out with man on earth. He could not have been pleased with the mutilation of His beloved Son because He punished me for this (Acts 2:22-24; I Thess. 2:16). Both the Father and the Son volunteered to suffer such indignities for the salvation of men (John 3:16; 10:18). Such a sacrifice on the part of God showed His divine perfection, justice, mercy, and boundless benevolence. The law was upheld, sin was judged, and a basis of pardon and eternal reconciliation was made possible.
He hath put Him to grief:  The meaning here is to be rubbed  or worn; weak; sick; afflicted; make sick; suffer a stroke; be diseased; have infirmity; put to pain; be wounded.  Jesus was made sick when He bore our sins, took our infirmities and bore our illnesses.
Jesus willingly bore all this in obedience to the Father; He gave His very soul as a trespass offering for our sin.  The rewards of Messiah's sufferings include the redemption of mankind, and the eventual return of the earth to complete reconciliation with God, under His hand–during the Millennial Reign. Jesus' resurrection and renewed life would be eternal, because He is God and cannot be destroyed.