Isaiah 51:19-20.
19 These two things are come unto thee; who shall be sorry for thee? desolation, and destruction, and the famine, and the sword: by whom shall I comfort thee?
20 Thy sons have fainted, they lie at the head of all the streets, as a wild bull in a net: they are full of the fury of the Lord, the rebuke of thy God.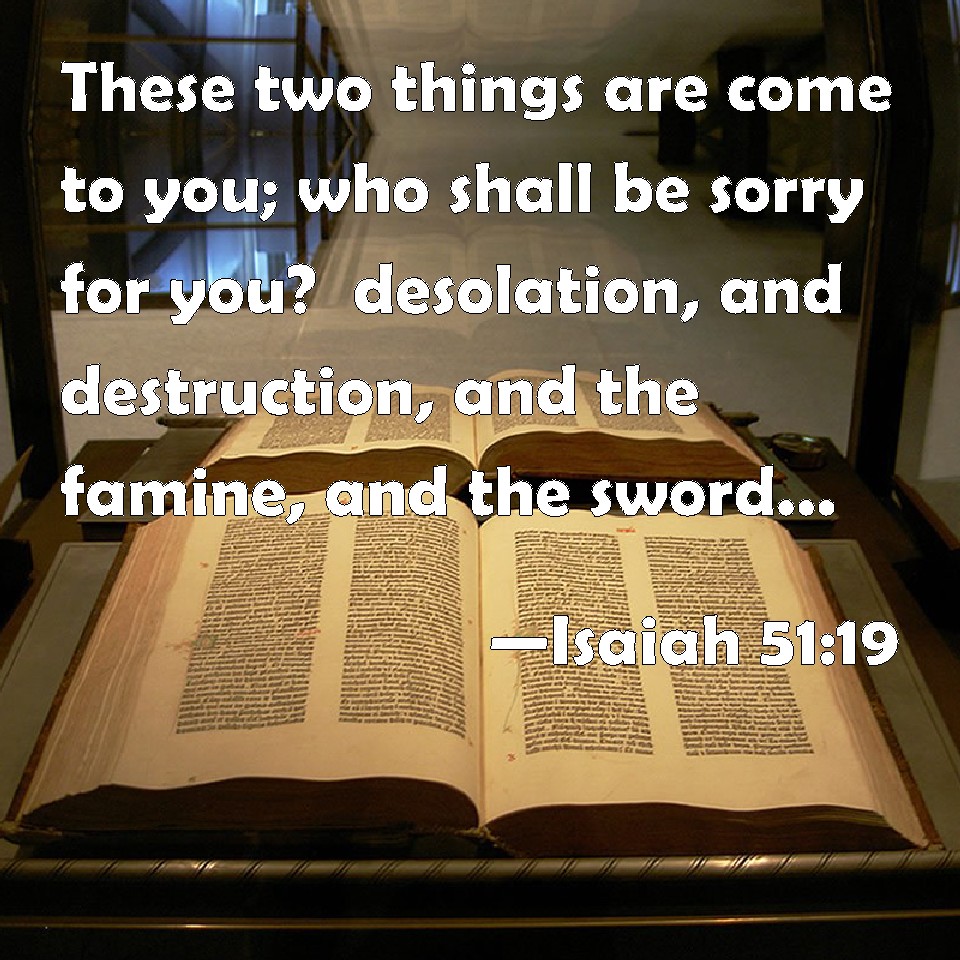 The "two things" in v. 19 are in pairs:  desolation and destruction; famine and the sword. God uses these terms repeatedly in predicting judgment and captivity upon Israel. Indeed, they do go together.  Any city, any people that are desolate (completely alone, abandoned, forsaken) are sure to fall to destruction.   And famine often comes with physical battle; people are no longer physically able to protect themselves because they have no food, therefore no strength.
In verse 20, Jerusalem is depicted as a mother. Her sons, or inhabitants, are so weak that they lie prostrate everywhere.  The head of the streets  is the same as in Lamentations 2:19, and describes the beginning of a way, or a street, the corner from which other streets diverge.  These would be public places where in normal times many would assemble, and where, in a siege,  they would be driven all together.  What Isaiah is describing here is a population so weakened by famine that they would be like a wild bull snared in a net.  A wild bull would, in its strength, easily run through a net; if it were weakened by famine, though it could not make the effort to escape.
Finally, to be full of the fury of the Lord, the rebuke of God,  is a very strong clause indicating that God's judgment is complete. His fury would be satisfied and His rebuke would end once His people gave up their disobedience in worshiping idols, and returned to Him.