We had a wonderful visit with our South Dakota family.  It was amazing to see our second high school graduate among the nine of our grandchildren.  And it was, of course, very hard to say goodbye.
We left Sioux Falls right on time, arriving in Dallas/Fort Worth right on time. We had less than an hour to make our next connection, so we took the Sky Link.  Would have been fine if the second one that should have been running hadn't broken down.  It got pretty funky in there with all that restless, sweating humanity packed in like sardines.
We got to our gate with about 25 minutes to spare, and I expected that they would have already begun boarding. Not so. I'm not sure what the delay was, but I have never seen or heard such a mess.  Not the airline's fault.  The woman behind the desk was doing her level best to tell waiting boarders to PLEASE keep the lanes clear for the off-boarding passengers.
What is it about human nature that simply ignores a request like that, with dozens of people milling around where off-loading passengers are trying to get through?  The poor woman finally called for airport security to come, and that did have a rather dampening effect on the herd.  They reluctantly moved back out of the way, but they weren't happy about it.
Then people started trying to board with luggage that was way bigger than their carry-on was supposed to be.  Lots of disgusted people ended up having to pay extra, having to go to a different line to be processed. There was no excuse for their anger.  The woman at the desk had been repeating over and over again what the requirements were as people began to board.  Besides which, when you make your reservation you are told clearly what that airline requires.  I had no sympathy for any of them.  There will always be people who think they can slip past the rules, or that it just doesn't apply to them, or something.  And then they get all twisted up when they get sent to the back of the line.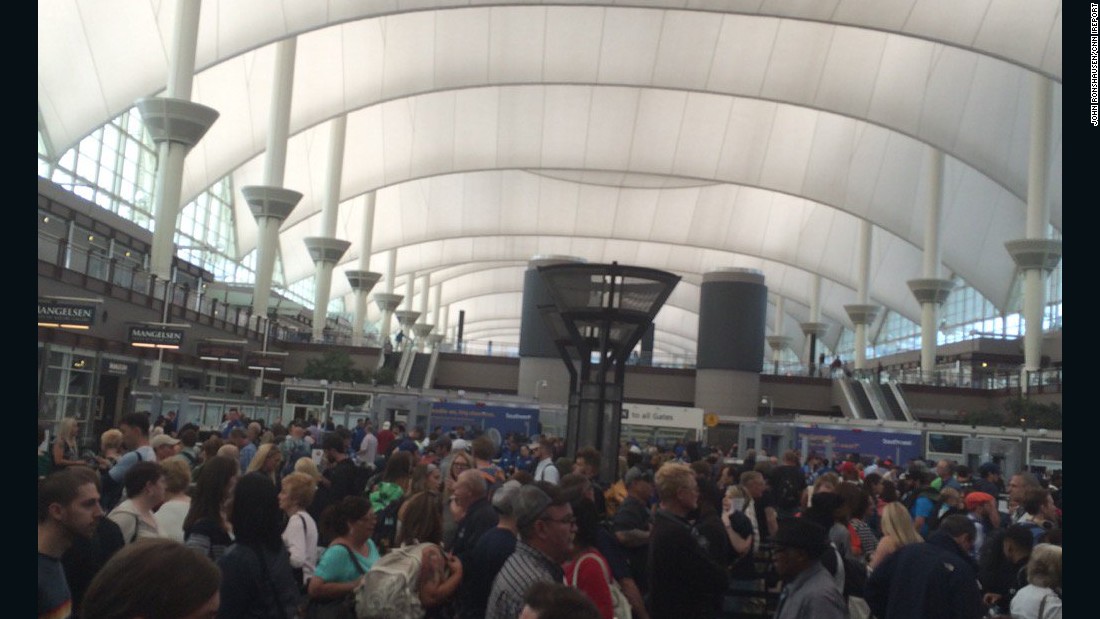 All this was going on as more groups were being called to board the plane.  Then the ominous announcement came:  "Ladies and gentlemen, this is a completely full flight.  There is no more luggage space available, either in cargo or in the passenger area.  Please make sure your carry-on is small enough to fit under the seat. . . . ."
And my heart dipped.  Somehow, I just knew.
Once we boarded, I found that the wife in a little old couple from somewhere in Asia was occupying my seat.  I tried to explain the dilemma, but I don't think they spoke much English, and they were obviously terrified of being separated. The flight attendant came to help, and I said, "Look, can I just swap my seat with hers?  Then they can stay together."  So we did that, and I ended up in row 5 right behind first class instead of in row 18.  Waved goodbye to Terry in row 21, and enjoyed the extra leg room.  I also enjoyed the woman on my left who was flying to Philly and then to Germany to visit family there. At age 79, she was a peppy little woman who was fun to chat with
We departed from Dallas more than a half-hour late.  This would have been around 10 p.m.  EDT.  We were scheduled to land in Philly @ 12:30 a.m., but we didn't land until 1:30 a.m.  Then the long hike to baggage claims, looking for bathrooms on the way.  We didn't find one that was open until we got all the way down to baggage. They were all being cleaned.
I mean, I'm glad they were being cleaned, right?
When we finally got to the right carousel, it was still going around.  Empty, but moving.  Empty.  My bag was nowhere in sight. A pleasant young woman came out of the baggage claims office and waited with me for another complete revolution, and then invited me into her office.  In less than a minute she had contacted Dallas and was told my bag was being sent on a different flight.  Supposedly, it arrived around 10 this morning in Philly, and they're going to bring it up here.  So far, I haven't heard a thing.
I may have to do a little shopping today.  The thing that really upsets me is that my laptop is in my suitcase.  Usually, I have it in my carry-on, but for some reason I decided to put it in my suitcase this time.  Less weight to carry, I guess.  So my phone charger, my Kindle charger, and my laptop are all —–somewhere out there.  I don't like not having my clothes, either. So we wait, and pray the suitcase will arrive intact someday soon.
We finally made it home around 4 a.m.  And of course, once I crawled into bed I couldn't fall asleep.  Finally turned off my light around 5 a.m. slept soundly until around 8:30.   Dozed some more,  but finally rolled out around 11.  And now here I am, with no laptop, no cell phone (needs charging) no makeup, no decent hairbrush, and waiting for some clothes that are among my favorites.
Other than that, we had a great trip.  And I guess, if this is the worst thing that could happen, then we're really in pretty good shape, right?  This too shall pass 🙂
It was worth it.