Ephesians 4:15. "But speaking the truth in love, may grow up into Him in all things, which is the head, even Christ:"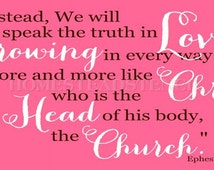 Instead of being like helpless children, distracted by every new thing that catches our attention we are to simply speak truth. We can speak truth only if we know truth; only if we are immersed in God's Word and prayerfully seeking the truths that God has clearly laid out for us there.
And we are to speak those truths not in self-righteousness, or in wrath, or in judgment against others; we are to speak truth in love.
Sometimes that's really hard.  Sometimes, no matter how careful we are about speaking truth in love, our words will be picked up and hurled back at us in anger.  It doesn't matter. Our job is to be truth-speakers.  It is the Holy Spirit Who will use truth to convict the heart of the hearer.