Galatians 2:12-13. "For before that certain came from James, he did eat with the Gentiles: but when they were come, he withdrew and separated himself, fearing them which were of the circumcision. And the other Jews dissembled likewise with him; insomuch that Barnabas also was carried away with their dissimulation."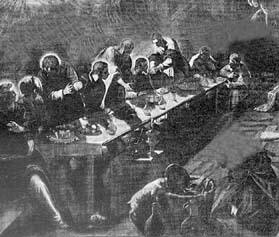 It must have pained Paul to write these words.  After all, he had just come from the gathering in Jerusalem where Peter's ministry to the Jews and his own to the Gentiles had been agreed upon; where the great truths of salvation by grace through faith were agreed upon by all, and where the Judaizers lost a lot of face. It had seemed as if there was peace and harmony among the brethren.
Paul and Barnabas journied on to Antioch and were ministering among the believers there, and preaching the gospel to those who had not heard.  Peter decided to visit them in Antioch, to see how the work was going. I am sure he was welcomed with open arms, and he enjoyed fellowship with all the believers. He ate with them, prayed with them, perhaps sang with them, and studied with them.
Until some legalists who did not understand grace showed up among them. Pharisaic Jews, perhaps believers, but they did not understand that the Law no longer needed to be observed as it had been before the death and resurrection of the Lord Jesus. He came as the fulfillment of the law. These men "of the circumcision" still believed that every letter of the law must be fulfilled in order for a person to attain salvation.
Peter must have decided he didn't want to offend them.  Maybe he just didn't want to be hassled by them. We don't know what his thinking processes were; we only know that when these men appeared, Peter would no longer share food with the Gentiles. And also, much to Paul's sorrow, Barnabas was influenced in the same way, sharing in Peter's dissimulation and refusing to eat with the "unclean" Gentiles.
The word dissimulation simply means hypocrisy. Peter and Barnabas weren't the only believing Jews who shied away from the Gentiles at this time.  The influence of the Judaizers was so strong that apparently several others followed suit and began to sit off by themselves during the meals.
Kind of reminds me of the cool kids in the lunchroom who were fine having an uncool kid sit with them until the King of Cool sauntered up to the table. He wouldn't sit with the uncool, and took his tray to a different seat. Some of his cool buddies got up and went with him, leaving the uncool to finish lunch on their own.
Of course my example doesn't carry the weight of what was going on in Antioch.  It's just what it makes me think of. The issues here were far more important than who was popular and who wasn't.  The gospel of Jesus Christ was that of salvation by grace, not by works. The Law no longer was the path to eternal life, because Jesus was the supreme sacrifice Whose blood not only covered sin, but cleansed us from sin. No works, not even the Old Testament law, are sufficient to take us to heaven.  "For by grace are ye saved through faith, and that not of yourselves; It is the gift of God; Not of works, lest any man should boast" (Eph. 2:8-9).
This was not just a matter of social standing.  It was a matter of the most foundational doctrine of the faith, and Paul could not let it go without setting things straight.